I wanted an item to help promote my shop besides business cards. A lot of people make samples of their items, but since that's sort of hard to do with journals, somebody on the forum suggested I make little matchbook notepads. They're fun to make and a great way to use all my little scrap pieces of decorative paper.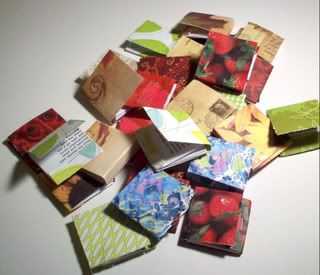 I'm going to be uploading some closeups on my
flickr
if you want to see them up closer. I'm going to keep making more once I gather more scrap paper. If you have a shop and need promo items for an event (or because you send out promo items with your order), please comment or convo me. I'm always looking for more places to give my promos out. I have business cards too I can give out. I don't really do craft fairs yet, and there's not a ton of places I have where I can offer my samples and/or business cards, so it really helps when other people are willing to give out samples and cards. :) I'm also thinking of doing the Little Black Box promo, I know it's pretty popular and helps people get exposure.
Today
is the last day of the Team EFA Birthday Bash sale in my shop. You can get
20% off
all items in my shop, so make sure to check it out and get some early holiday shopping done. I haven't got any sales from my EFA sale yet, so it'd make me really happy to get a sale today. Maybe sales aren't that effective on etsy?
I'm also running a little deal for my blog readers during the holiday season. From October 1 - December 31st, 2008, you can get 10% off any of my items if you enter the code "BLOG" in the message to seller box at checkout. ;)
I'll hopefully have time to work on some new items this week. I have an idea for a journal with decorative paper that kind of looks Halloween-ish (but isn't specifically Halloween themed so it wouldn't have to be just for Halloween). This weekend, I worked on some cards that encourage people to vote for the upcoming election. I think I'm going to list those starting tomorrow.